Andrew
Holdsworth
Composer • Producer • Arranger
© Copyright Andrew J Holdsworth.
All rights reserved.
Irish
I quite fancied myself as an Irishman in my youth. I was born in the Bahamas. Same direction. Same ocean (kind of). Many of my teenage musical heroes were Irish folk singers, and spotty adolescent Andrew could never have imagined that the older Andrew would end up working with many of them.

Music player – requires Flash
I spent a few summers touring Scotland and Ireland playing bass guitar and piano with the folk band Archaos in the mid 90s. Our singer (the young Denise Hagan) was (still is) amazing, but I was a fish out of water. Purists took an instant dislike to my instrument. Whilst performing at the Ballyshannon folk festival, one punter took exception to my inappropriately funky bass playing and smashed up my amp with a hammer in the middle of our set.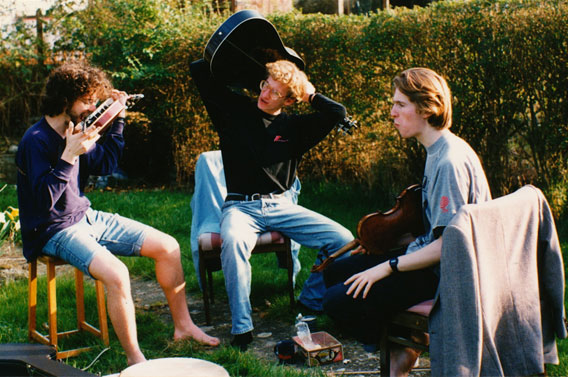 In 2005 I wrote and produced five songs for Tricia Corrigan's debut album A Different Kind Of Beautiful and subsequently played piano, guitar and bass on her brother's two instrumental albums, The Shadowed Gateway and The Crooked Mountain Road. Although essentially based on Irish folk tunes, these albums are in a different universe from most pigeon holes I'm aware of. A "fiery animus", indeed.
More recently, I played on, co-produced (with the wonderfully gifted and sensitive Bill Shanley), arranged and mixed singles and album tracks for Mary Black, Finbar Furey, Janis Ian and Frances Black.