Andrew
Holdsworth
Composer • Producer • Arranger
© Copyright Andrew J Holdsworth.
All rights reserved.
Death Metal
My first foray into Death Metal was as keyboard player for Paradise Lost on their platinum-selling album, Draconian Times, which we recorded at Ridge Farm in 1995. I was barely out of nappies and soon got sacked from the band for refusing to dye my hair and wear black. I also conducted and arranged the choir on this record, which wasn't very difficult as they only had to sing three notes. Charles Manson made several appearances on the album's second single, Forever Failure, but was sadly unable to make the launch party.
A highlight of my Death Metal career was appearing in a word search in Metal Hammer magazine following my 'quite interesting' piano solo on Icon, another Paradise Lost album.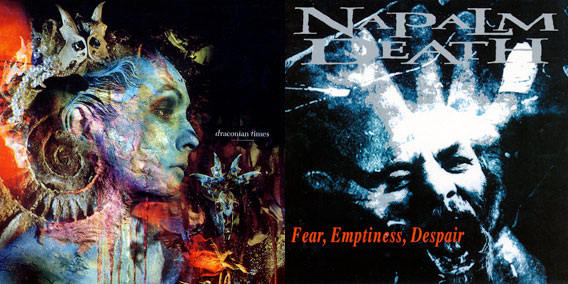 Of all the musical categories on this site, metal is the most formulaic and conservative. Musicians who perform this kind of music never grow up, and the successful ones never take themselves seriously (they'd have to find another vocation if they did). This is why they're so much fun to work with.
While working at Jacobs Studios in the 90s, I recorded, or helped other people to record, Napalm Death, The Exploited and Sounds of Burial. I also seem to remember working with Stiff Little Fingers and The Godfathers, but they're Fisher Price compared to the Tonka bands mentioned above.